2020
Where is Here is a portrait of a community, circa 2019: photographs of people who live, work, grew up, or frequent the thereabouts of East Austin, one of every age, newborn to 100.
The project was organized by Keyheira Keys & Phillip Niemeyer. The portraits are the work of six photographers, identified in the caption of each photo by their initials:
Arius Holifield – AH
Montinique Monroe– MM
Tyeschea West – TW
Bertie Pearson – BP
Hector Hernandez – HH
Ryan Junell – RJ
---
---
For Juneteenth 2020, Northern-Southern purchased a full page in The Austin Villager. The Villager is a free and independent newspaper for East Austin published by Tommy Wyatt since the early 1980s.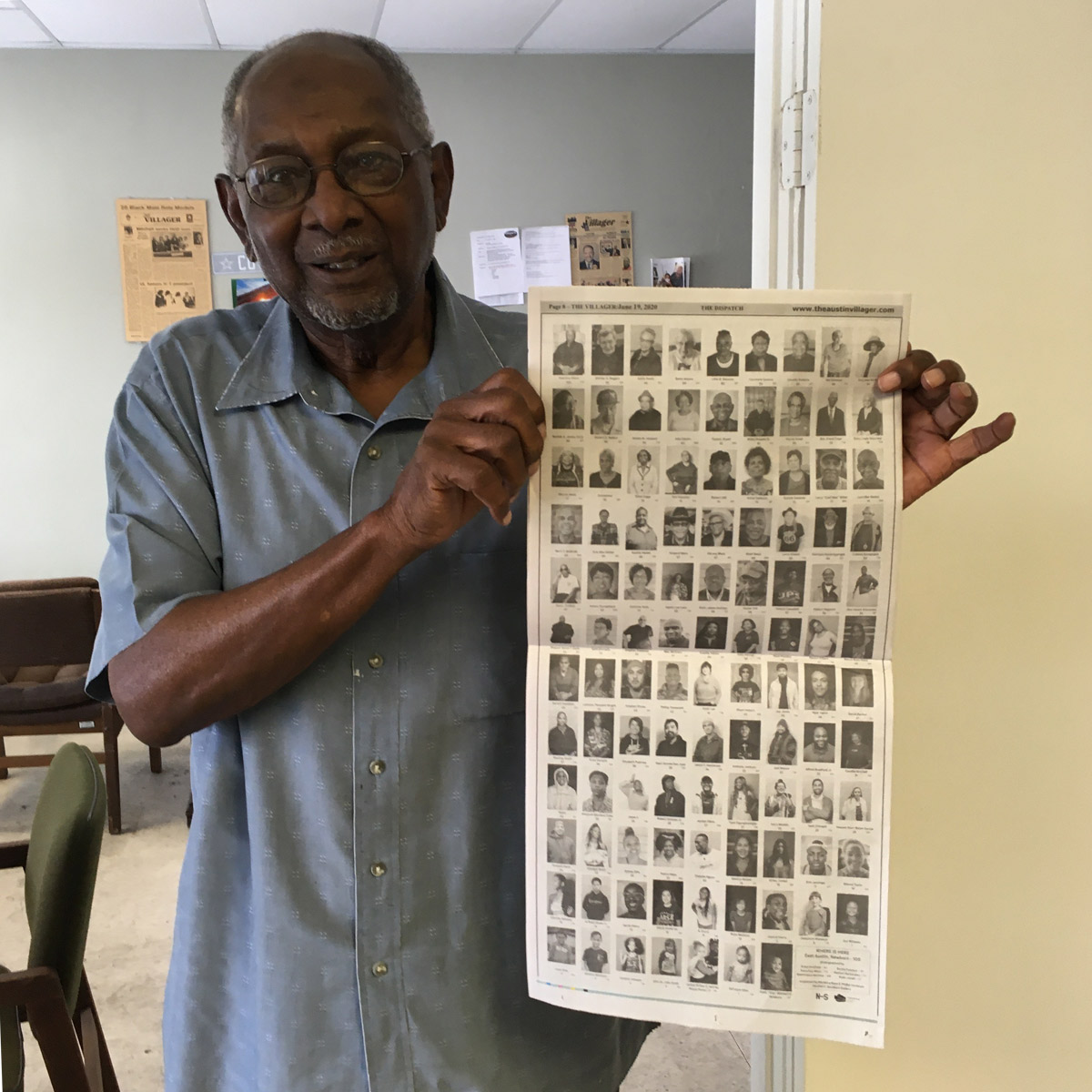 ---
ORGANIZERS STATEMENT
Where is Here took a year to plan and a year to execute. The first shoot was February 17, 2019. The last was February 18, 2020. The show opened with a reception February 29, 2020. It closed after a week to do our part to slow the spread of the novel coronavirus. We posted the entire show, and some extras, above.
The people in these photographs have stories. You may know something about someone in one of the photos—tell us! — hello@northern-southern.com We hope, as a next step, to document these stories.
This project is the effort of a collaborative community. We had help from so many: Monique Foley, Angelica at Parson House, all the great people at Conley-Guerrero Senior Activity Center, Luci and Dana at Miller fine art printing, Adrian Armstrong of Brown State of Mind, Six Square, Miriam Conner, Paloma Mayorga and Big Medium, Rachel Freeman, James Turner, Stella Alesi, and Ashley Ellis. Thank you, also, to Michael Lee of KUT.
We hope we have done our little bit to contribute to the history and love of this place.
— Keyheira Keys & Phillip Niemeyer